The Legends of Badal'Shari are a collection of stories set in a fantasy world resembling 1001 nights. Badal'Shari is a desert island that harbors different cultures, dangerous animals, and a lot of secrets…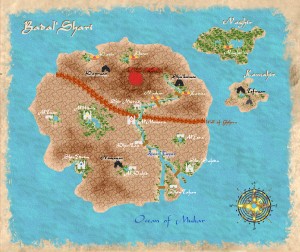 THE END OF ALL STORIES
Status:finished
This story has been published by Less Than Three Press, which closed in summer 2019. I'm currently in the process of trying to find a new publisher.
~~~~~~~~~~~~~~~~~
THE SONG OF SOULS
Status: finished
Warnings: Adult content, violence
Genre: Fantasy/Adventure
Summary: To secure his poor family's well-being, young bard Shanar sells himself into indentured servitude for a decade. He is bought for the palace and ends up in the service to the Lord's only heir, Prince Arevan. As Shanar and Arevan slowly grow closer over time, a dark cospiracy threatens Arevan's ascension to the throne – and his life. Both are forced to make some drastic decisions to save the city and their loved ones, even venturing out into the territories of an unknown enemy…
This story takes place 37 years earlier than "The End of all Stories".
Credits:
Map Badal'Shari: Julia Rosenthal